Online shopping is getting more and more popular, especially among blogging SAHM like me who only connects to the world through the window of the computer from home. Unlike FTWM, we do not have the luxury of taking leave to go out whenever we want to. Thank goodness surfing and communicating online is so common today otherwise I would go bonkers being stuck at home with the kids 24 hours a day, 7 days a week.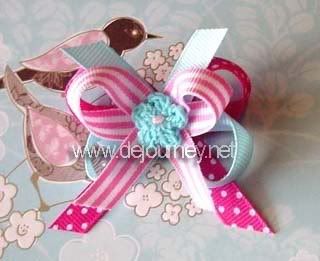 You would not believe that little things like girl's handmade hair clips is getting so popular among online shoppers today. Unlike those I got from the local night market, these imported hair accessories are so fine and neatly created. Amelie B hair accessories are now available at www.littletoez.com. Besides these cute hair clips, this bouquet carry a wide range of imported cute baby and toddler clothings with brands like KM Baby Socks, Cheeky Little Soles, Oobi Baby and Kids and Qictoria Baby Fashion.
Whatever you need, I am sure you could find something nice for your little ones from www.littletoez.com. Oh yes, they allow payment through PayPal too!